I haven't done a lot of crafting lately so I thought I'd post a swap package from back in the day. Due to monetary constraints I haven't been able to participate in any swaps lately. The cost of supplies and postage is too much.
The name of this swap on Craftster was Forest Friends. My partner got a few handmade items and some supplies.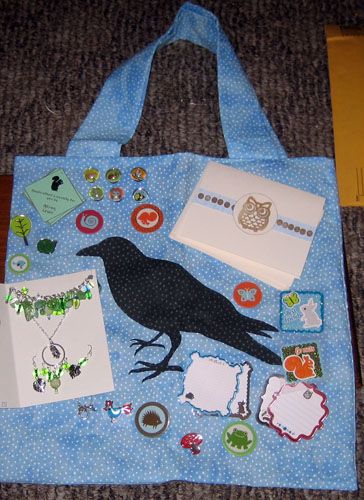 The bag was handmade. The crow was traced onto freezer paper and cut out with a hobby knife. Then it was ironed on as a stencil and painted. I believe this was my first time stenciling fabric and I didn't put anything under the fabric, not realizing that it would soak through. To this day I still have the image of a crow on my craft table. :)
Inside fabric of the bag. It's also reversible.

My partner also got leaf themed jewelry (earrings, bracelet, necklace), some very simple owl notecards, and some "Handmade By..." tags. These were all handmade by me. The rest are stickers and scrapbook embellishments.