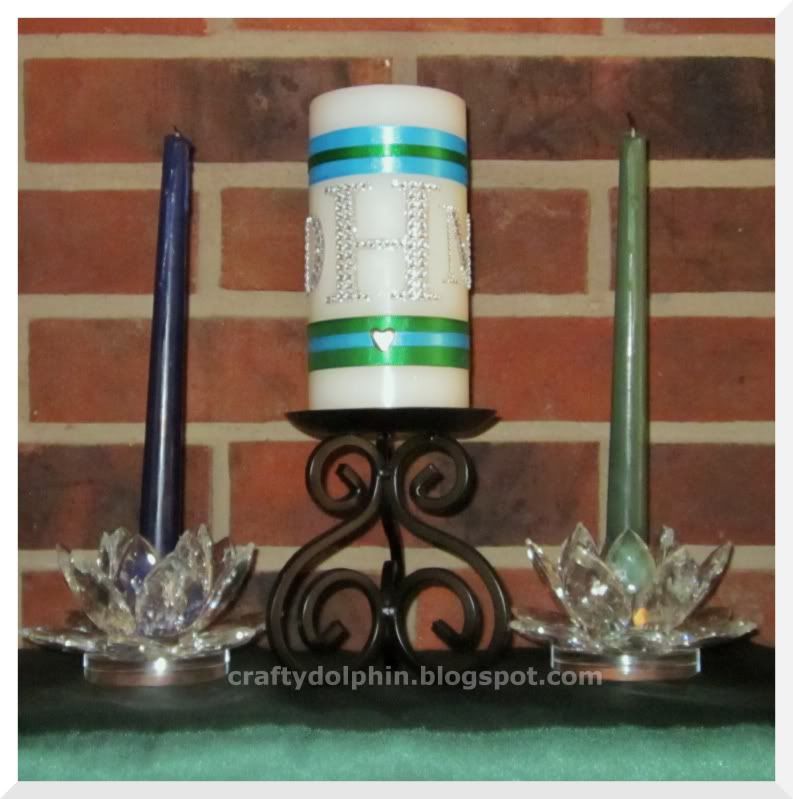 As part of our wedding we did a unity candle ceremony. It was a little bit different from most in that we included the guests as well. Everyone was given a small stick candle and candle holder. We passed the flames to our siblings who then passed the flames around to everyone else. Once the unity ceremony was finished the guests were asked to make a wish as they blew out the candles. As of yet, I don't have photos of the individual candles.
Everything for our candles was purchased at Hobby Lobby. The 3 candles and candle holders were all 50% off. I love Hobby Lobby sales. The large pillar is white with two layers of ribbon that was attached using corsage pins poked into the candle. The heart is from a pack of brads. I snipped off the brad part and just hot glued the heart over the ribbon. The initials (DHM) were found in the scrapbooking section and were just simply stuck onto the candle. They stick just fine on the wax. Easy peasy!
For the guest's candle they had a 6" green stick candle. The candles alone were much too plain so I had to spice them up. I started by wrapping some of the thinner blue ribbon around near the bottom...maybe 2/3 of the way down the candle. To do this I used a small dab of low-temp hot glue on the candle and stuck one end of the ribbon on it. Then I wrapped the ribbon around, overlapped it with the glued end and added another dab of glue to keep it in place. This was still too plain for me so I went back and added a heart brad as described above. Looking back now I would have added the heart over the seam of the ribbon rather than on the opposite side.