On June 9th, we held our wedding reception/housewarming party. It ended up being a success, but I was also disappointed that there were many people who RSVPed but didn't show up. The weather was perfect, our hog was roasted on time, and the people who did come seemed to have a good time.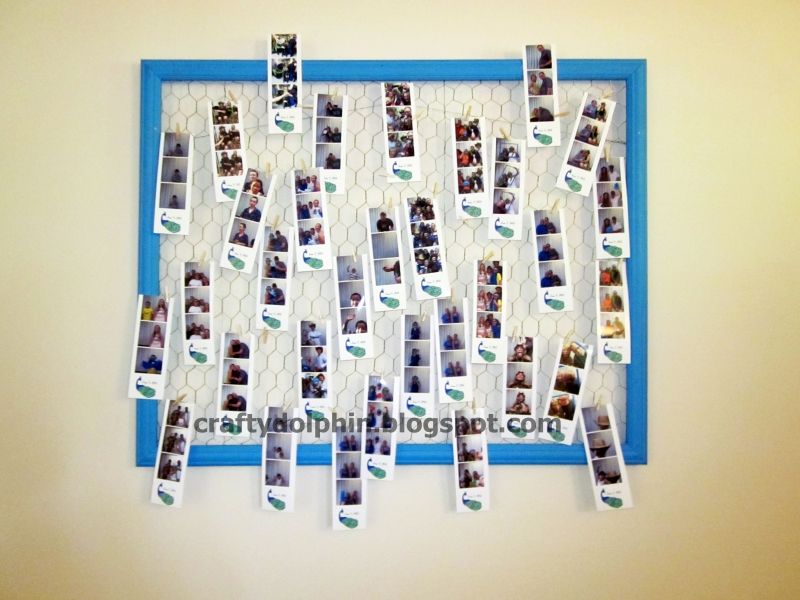 As a thank you gift for coming, I had set up a homemade photo booth. I used
SparkBooth
software, which I love. There are so many ways to customize how the photos will turn out. I made a simple backdrop from some pvc pipe and sheets I found at GoodWill, and a decent web camera. There were also several props I picked up from the Dollar Tree, Hobby Lobby (40% off), and Good Will. One of the props was a frame people could hold up. I found it at Good Will, discarded the ugly picture, then painted the frame.
After the party, I stapled some extra chicken wire to the back and hung it up on the wall. I added some of my favorite photo strips from the photobooth using mini clothes pins I found at Walmart. It turned out really well. One of the nice things about the Sparkbooth software is that it will automatically save both the individual photos and the photo layout in folders on the computer. So I was able to go back and print strips if the guests took both copies. And if there are any great photos, I can print those out too.
Not everyone used the photobooth though. Actually, most people didn't. It was mostly kids, those few people we could get down there, and a few people from my side of the family who knew what it was about. We did get some great pictures in the end though. I'm not sure if it wasn't successful because of the location, or people just didn't care. I do have plans to use the software in the future (goofy Christmas cards perhaps).
*note* this is not a sponsored post for SparkBooth.I enjoy talking about products I love. I really do love the software and all the different options you have. It was also easy to set up. I was able to add my own logo at the bottom too, though that was a little fiddly to get right.